My heart's in the Highlands, my heart is not here,
My heart's in the Highlands, a-chasing the deer;
Chasing the wild-deer, and following the roe,
My heart's in the Highlands, wherever I go.
-Robert Burns
Arrival: Glasgow International Airport
1. The customs officer waves us forward as a pair. It's been a year since my sister and I travelled together, and it feels good to have her by my side again. A sticky layer of magenta lip-gloss traps the words as they leave the officer's mouth. I try not to stare at her lips. We answer the standard questions obediently. Yes, we are sisters. (No, not twins). We are in Scotland to visit my boyfriend and to hike the West Highland Way.
2. Lips launches into a detailed story about a friend of a friend who hiked the West Highland Way last summer. How many days were we hiking it in? Did we have a bag porter? Oh, the blisters! And the midgies! Wretched things. The very thought makes her writhe around in her seat as if scratching the unbearable memory of an itch. Satisfied, she stamps our passports.
Day 1: Drymen to Rowardennan
23 km
3. I couldn't have been gone for more than 5 minutes. When I return with bacon roll and lattes in hand, an elderly gentleman has cornered my sister in conversation at the bus stand in Buchanan station. He is wearing a sage green fleece and quick-dry pants, the kind I imagine can zip off at the knee to maintain homeostasis. Adventure pants. A very authentic-looking walking stick rests across his knee, made of marbled wood and an elegant bone handle. Jill shoots me an apologetic glance. There is a long-standing family joke that we inherited our mother's knack for capturing the attention of anyone over the age of seventy-five. Today is Monday and Gerry is, in fact, going on an adventure. A fifteen-kilometer hike over Conic Hill to the pub in Balmaha, as he does every Monday "just to make sure I still can." And would we mind if he joined us today?
4. Gerry talks most of way to Drymen, and doesn't stop until we break for lunch. He details the road ahead – the rocky shores of Loch Lomond, the switchbacks of Devil's Staircase, the rolling hills surrounding the Bridge of Orchy. Yes, when the time comes, he muses, lay him to rest at the Bridge of Orchy.
5. Together we reach the summit of Conic Hill and pause to breathe in the vastness of Loch Lomond. Light dances off the water and the clouds cast shifting shadows across the patchwork of green that surrounds the lake. Naturally, it is Gerry who breaks the silence, "A sight enough to make you believe in God, isn't it?"
6. On the other side of Conic Hill is the Oak Tree Inn, Gerry's final destination and our half way mark for the day. He finishes two pints of Belhaven Best and a triple shot of scotch ('just a wee dram') while waiting for the bus. I feel a pang of sadness watching him shuffle back towards Glasgow. We hike the next seven kilometers tipsy, wondering what other chance encounters the trail might bring.
7. We decide to switch to half-pints from now on so that we don't have to stop to pee as often.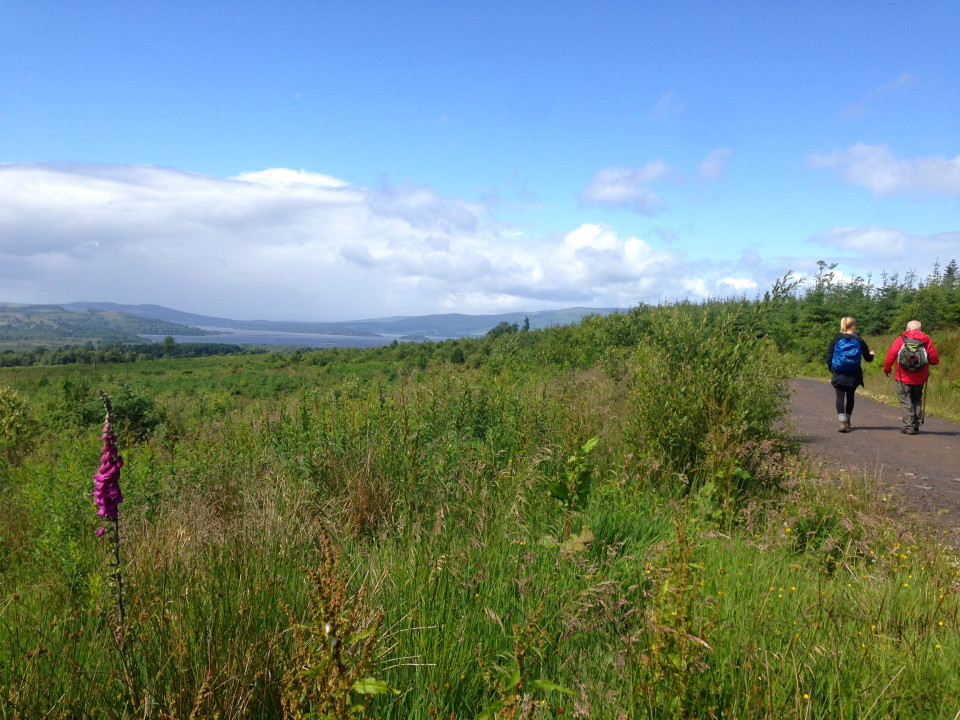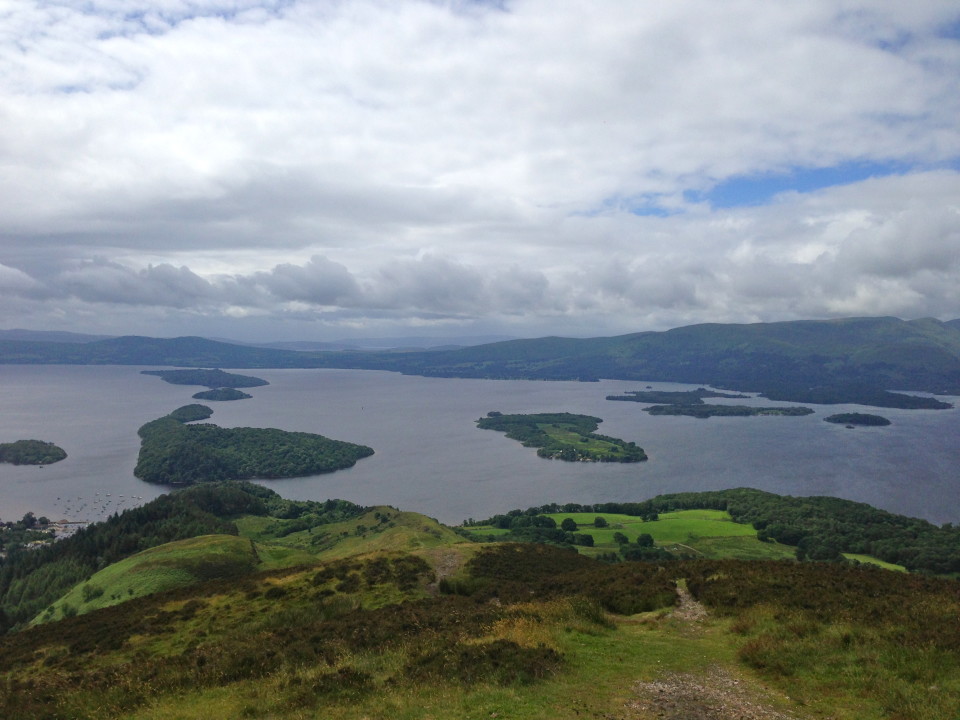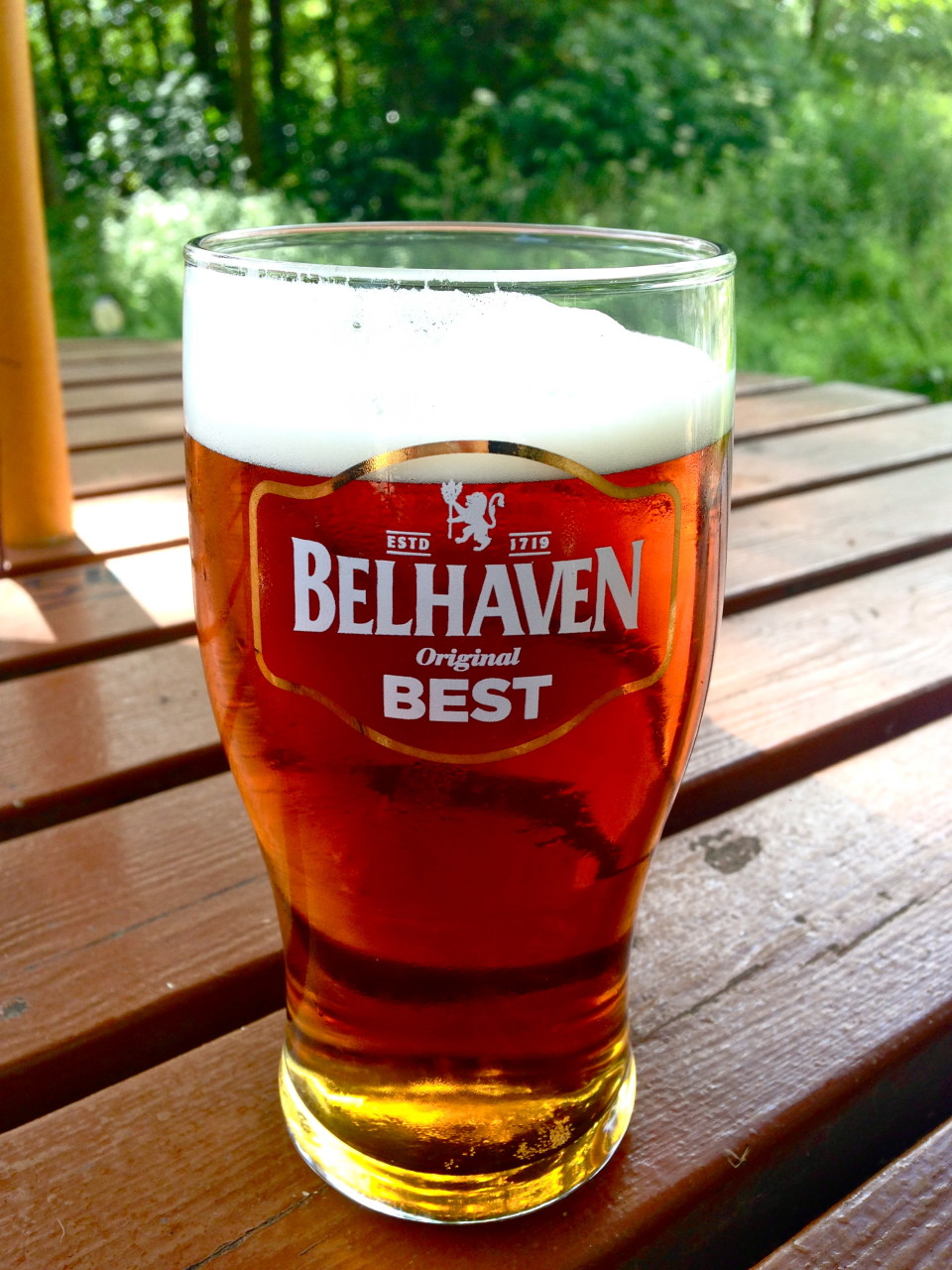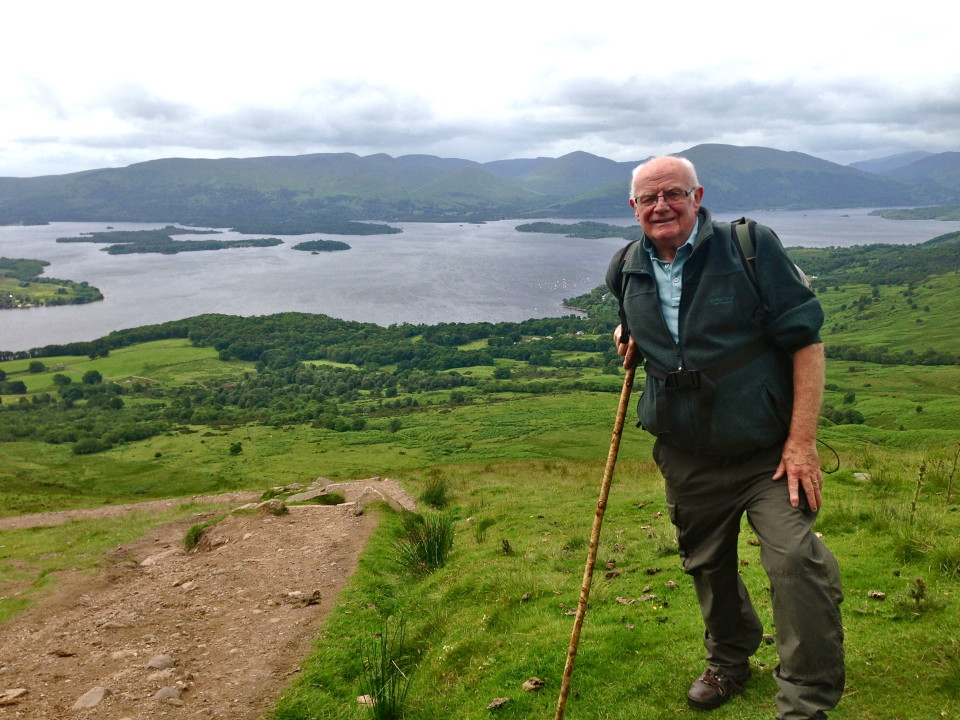 Day 2: Rowardennan to Inverarnan
22 km
8. The trail continues to hug the shores of Loch Lomond for what feels like an eternity. My mind darts up and down with the rocky terrain, at one moment stuck in the past, and the next daydreaming about the future. Slowly, the kilometers begin to quiet the neurotic synapses of my brain and I settle into the here and now. The ground underfoot, the pang of overworked muscles, the forward rhythm of placing one foot in front of the other. Long distance hikes have a way of bringing me to the present like this.
9. I now understand why the Scottish midge is one of the most abhorred creatures on earth. Largely, because there is no such thing as a single Scottish midge. No, where there is one midge there are a thousand more waiting to swarm your face while you struggle with your tent after a long day of walking. They converge on every inch of exposed flesh leaving behind tiny red pinpricks that will itch at all hours of the night. A million tiny martyrs marching relentlessly to certain death, painting the sky black and bringing walkers to their knees.
10. We switch to whisky so that we don't have to get up and pee in the middle of the night.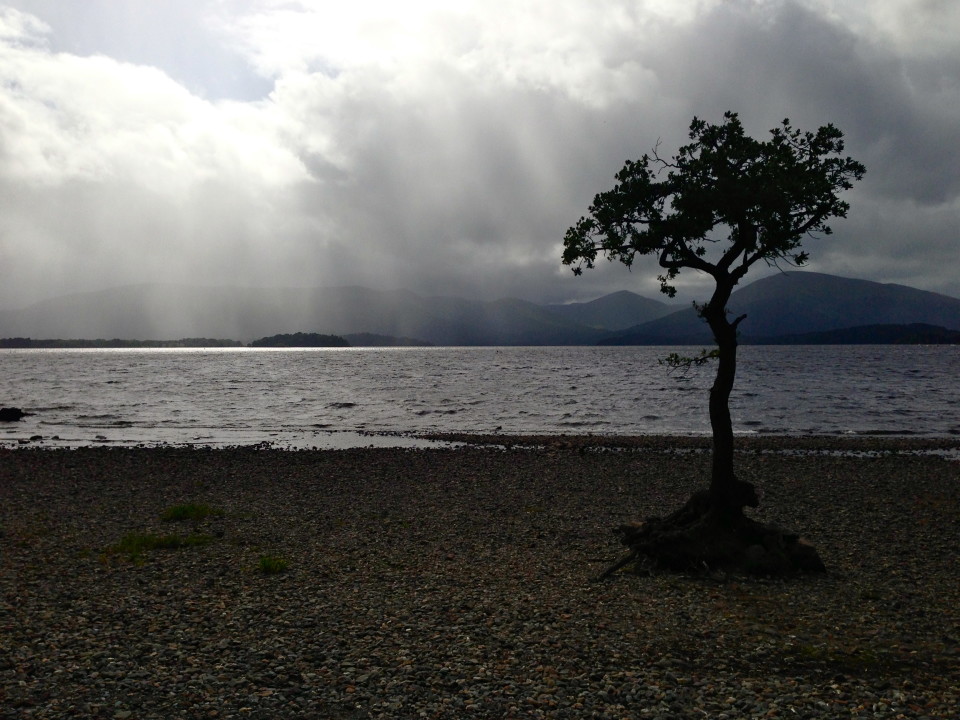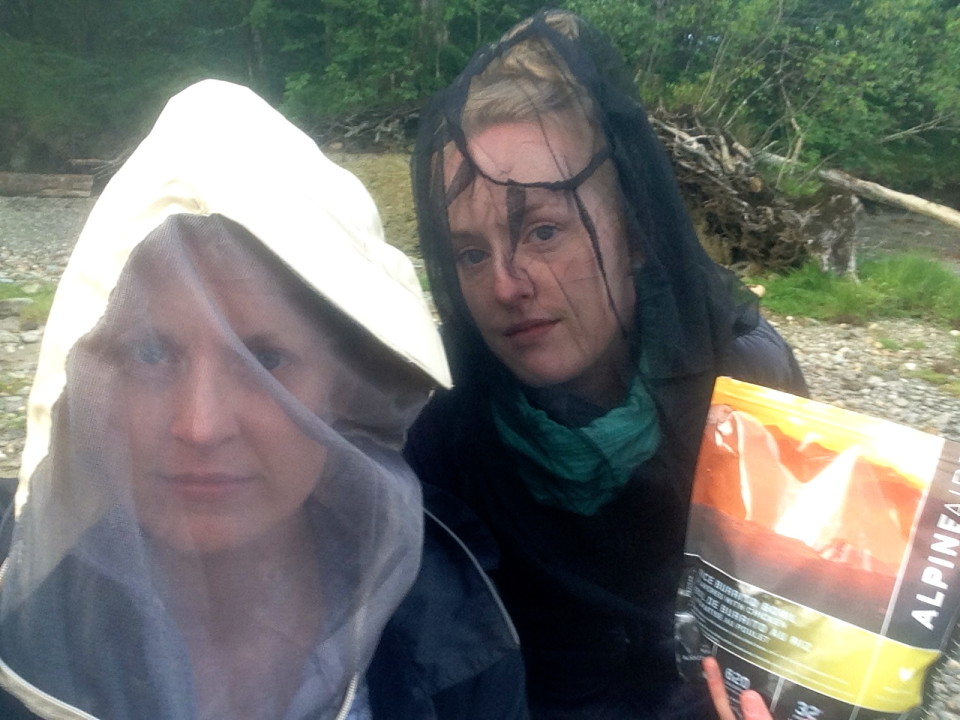 Day 3: Inverarnan to Inveroran
33 km
11. I'm starting to break.. My body is telling me that we've walked at least thirty kilometers today, but the map is insisting we have nine more to go. The soles of my feet feel like they are tearing with every step, and I'm in denial about the pain beginning to nag at the front of my knee. An angry mantra starts to creep into the front of my mind. You should have trained for this.
12. We meet others along the trail in various states of morale. Dave, Emma and Allan, siblings from East Scotland who might have turned back at Loch Lomond if they weren't hiking the Way for charity. The father/son duo, Robert and Dean, who said goodbye to Robert's brother on Day 2 when his blisters became too raw to walk. And Andy from England, who sped past us in a pair of dangerously short-shorts and a flash of white legs.
13. Jill has now been bribing me forward with Skittles for the past five kilometers. We reach a bridge and check the map again. Bridge of Orchy. We've covered more ground than we thought, and only have three more kilometers to go until our next campsite in Inveroran. Halle-f*cking-lujah. I finish the Skittles and look out over the water and think of Gerry.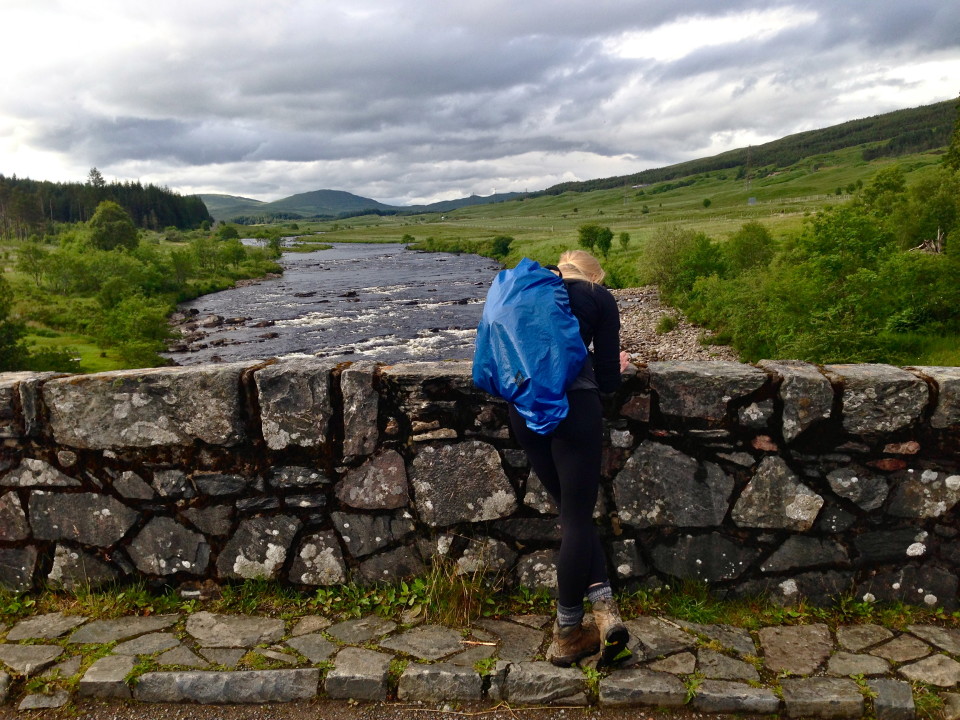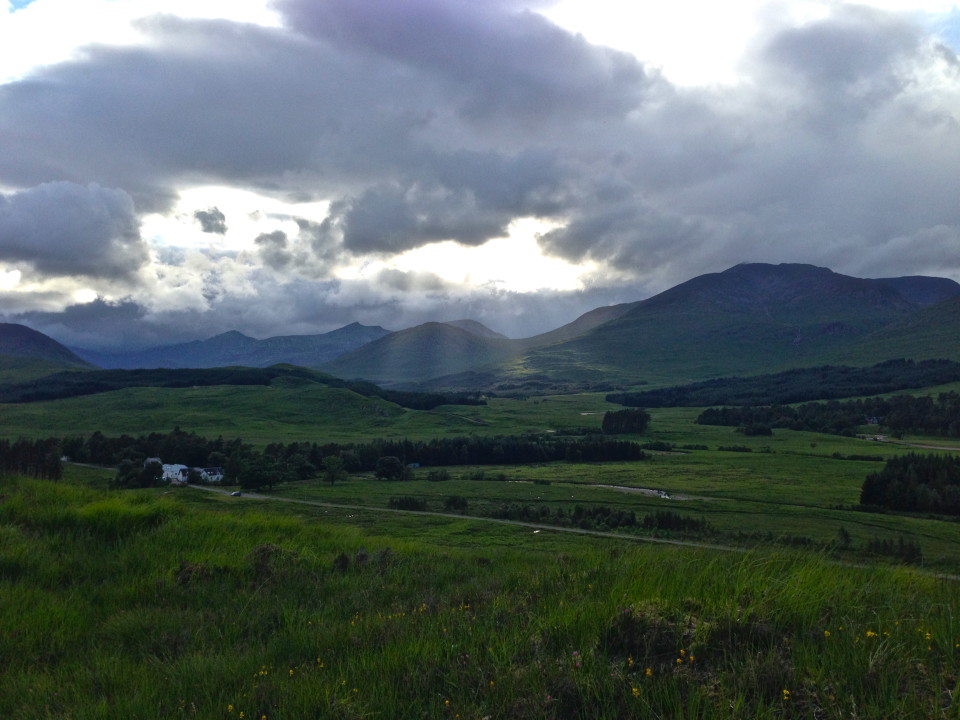 14. Inveroran is more of a lone inn than a town, a speck of white plaster cradled in a valley of green. We limp into the walkers' pub and discover that the kitchen closed ten minutes ago. I have already begun to mentally steel myself for eating protein bars inside our damp tent when the barkeep offers to make us a soup and sandwich. My eyes sting with gratitude. It takes me my entire pint of Belhaven Best to work out that he looks exactly like Rhys Ifans in the movie Notting Hill, but with dreadlocks.
15. It's nearly 10 PM and an indigo dusk has dusted the valley. We pitch the tent in the wild camping area a short walk from the inn. Before turning in, I wade into the stream that cuts through the campsite, still bubbling from it's trip down from the mountains. I walk until I can no longer see my knees and let the icy water numb everything. The rolling munroes surrounding our little campsite remind me what what an insignificant speck on the map I am, and with that smallness comes clarity. It begins to rain and I crawl into the tent.
16. A noise outside pulls me back from the brink of sleep. My body tenses. Human? Animal? Highland Axe Murderer? I lay frozen in irrational fear thinking about the thin nylon separating us from the outside. It sounds as though someone is circling the tent, ripping great handfuls of grass from the earth. I inchworm to the door in my sleeping bag and slowly unpeel the zipper. A 6-point buck is lazily mowing the lawn a few feet away. I shake my sister awake and hiss, "Jill, Rudolph is outside our tent". She mumbles something about Christmas and rolls back to sleep.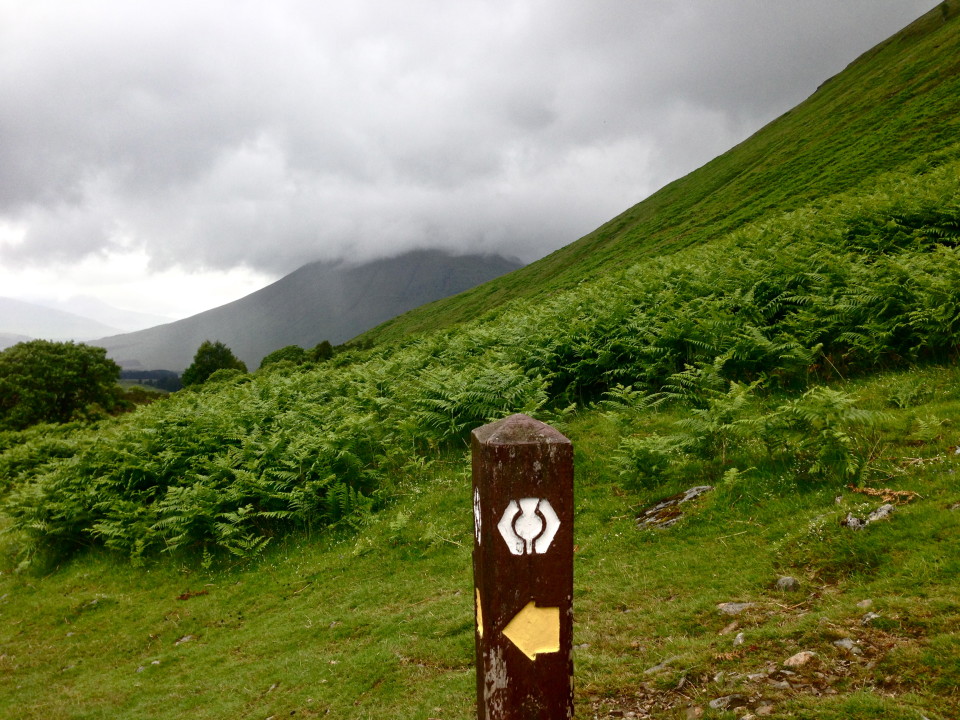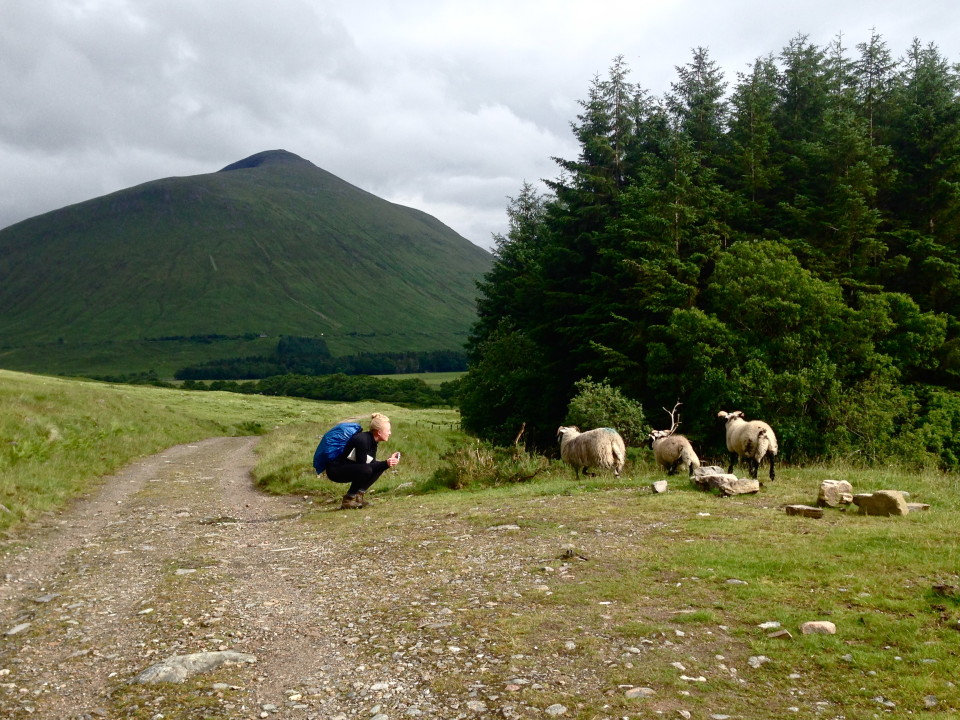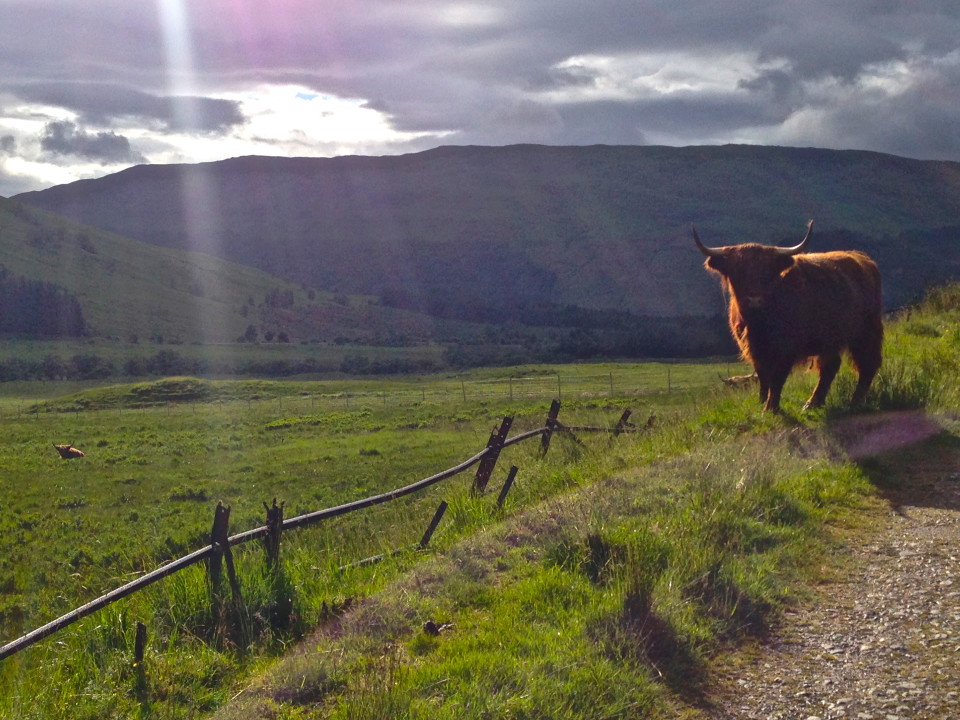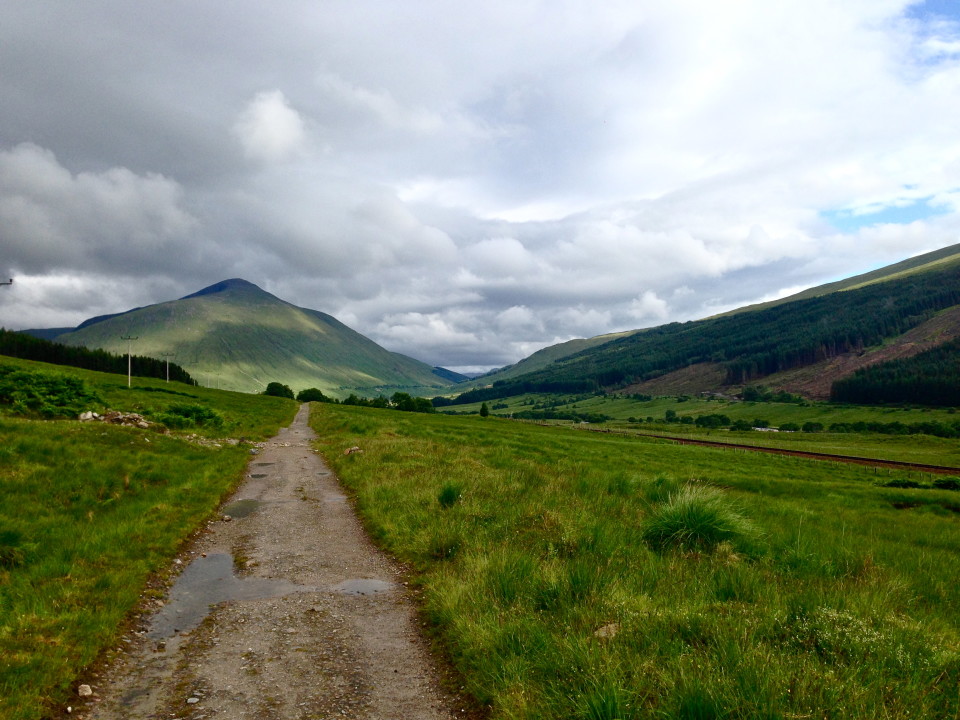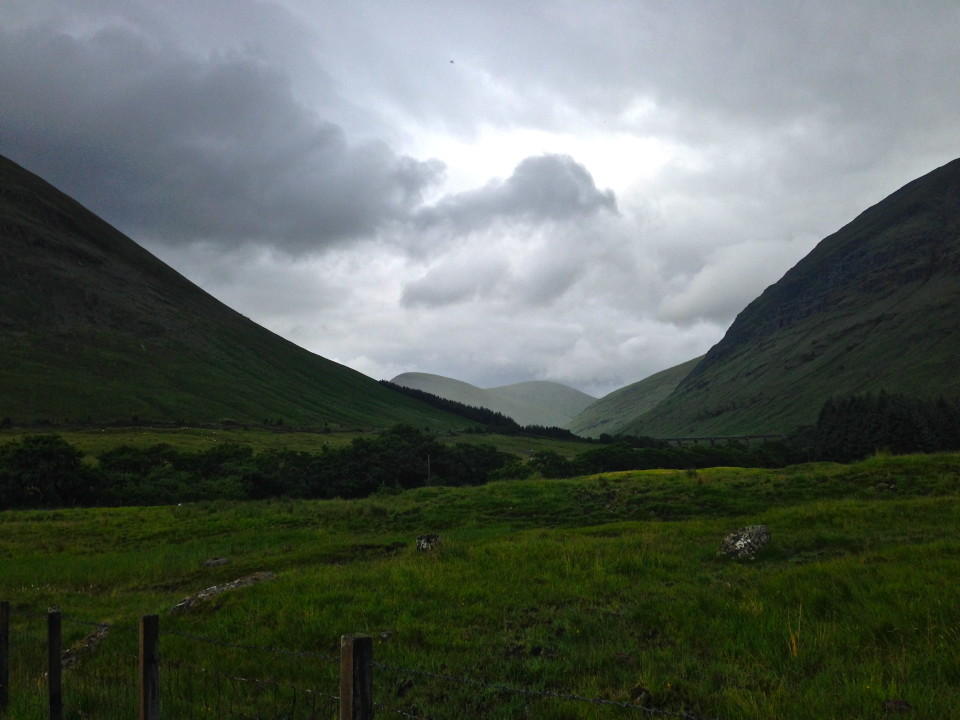 Day 4: Inveroran to Kinlochleven
30 km
17. "We moose bae daf."
I peek out from under my hood in the direction of the woman's voice, uncertain what language she is speaking. Her auburn hair is cropped short, curling just above her chin. The relentless downpour has plastered her bangs to her forehead, and her mascara has begun to bleed down her cheeks. She looks how I feel.
"I'm sorry?" I ask, listening closer this time.
"We must be daft. Daft." She waves her walking stick around at the surrounding grey and gloom for emphasis. The usual palate of green has been tempered by a thick layer of cloud packed into the valley like a miserable Instagram filter. I wiggle my toes inside my Gortex boots and listen to the squish of wool soaked in water. In this moment, I'm finding it hard to disagree.
18. We have just finished climbing the small switchback at Devil's Staircase, and it now feels as though we could touch the sky. I stare transfixed at the heavy, wet creep of the clouds just above our heads. Time slows. The trail has turned into a riverbed and we follow the flow of water downstream towards the elven town of Kinlochleven.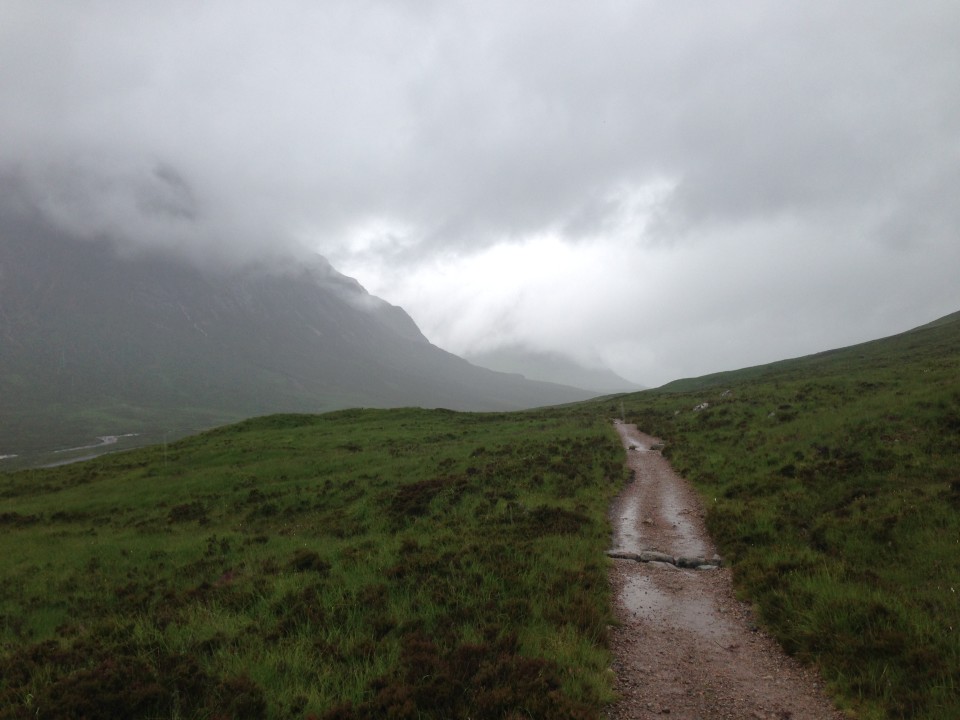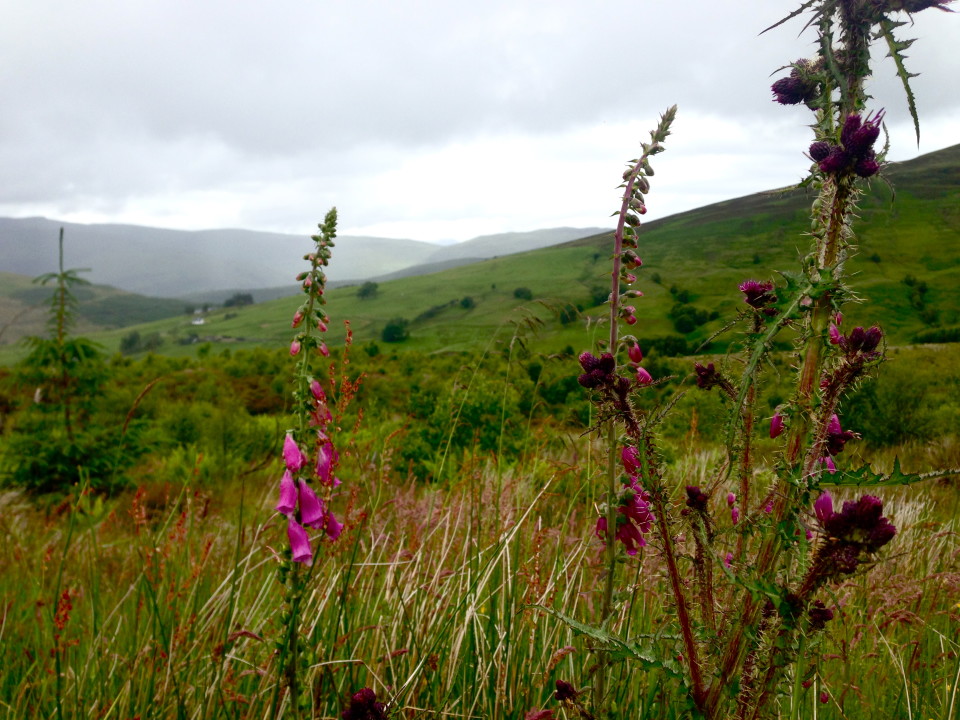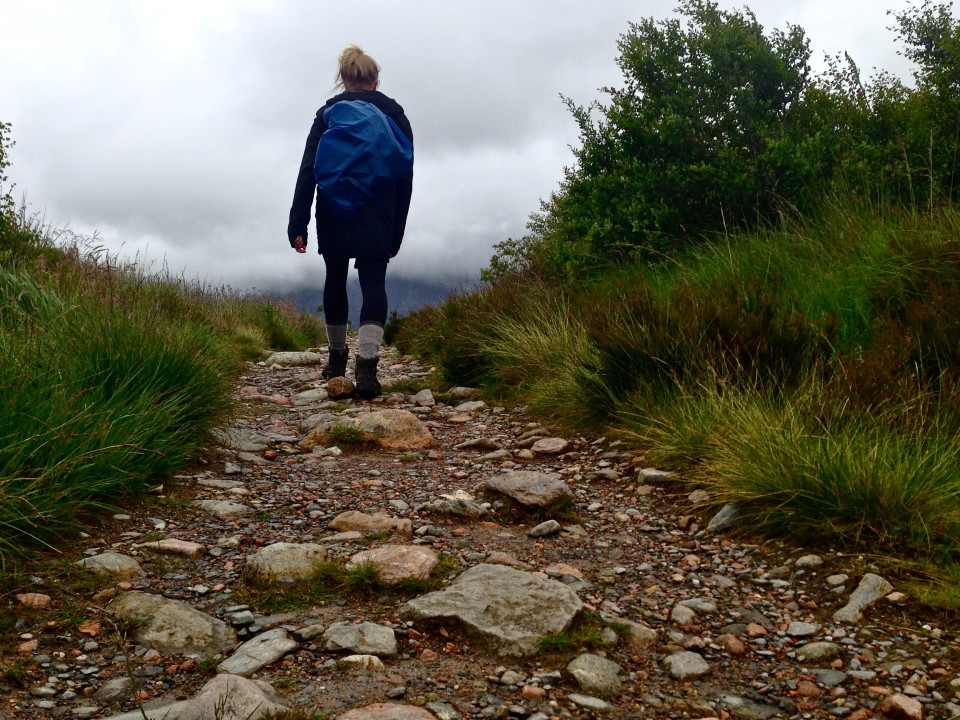 Day 5: Kinlochleven to Fort William
21 km
19. We had mentally prepared for one wet day, but not two. Dave limp-sprints by us, his sore knee extended and swinging out to the side like a pirate with a peg leg in a race. A sort of crazed forced-smile is plastered across his face. It's the last we will see of him and the Siblings.
20. In the bathroom I find three high school girls soaking their hands and feet in hot water from the tap, wet boots and layers sprawled across the floor. They are quite obviously miserable. We have passed other young groups like this along the Way, many of them completing their 'Adventurous Journey' for the Duke of Edinburgh Award. Outdoor education at its finest. We make small talk, and the girl with a thick braid running down to her waist suddenly blurts, "So, you do this for fun!?"
I hesitate, my mouth full of clichés. How one day she'll be happy she has these skills. How somehow it gets easier. How someday she'll be sitting in a cubicle daydreaming about someplace wild and untouched and simple.
I laugh instead, "Yeah, I guess I do."