The great beauty of Iceland is that you will stumble across many of her most spectacular sights by simply driving along the circular Route 1, and that these natural wonders can generally be enjoyed free of charge. Although we had laid out a fairly aggressive itinerary for ourselves in terms of total kilometers covered during our road trip along Iceland's south coast, for the most part our plan was deliciously excursion-free. There was, however, one activity that my thrill-seeking compadres and I agreed needed to be attempted – ice climbing.
Rejuvenated after a 12-hour sleep and a sunrise walk on Reynisfjara beach that took our breath away, we piled into our trusty old 4×4 towards the base of Sólheimajökull glacier.
Say that three times fast, I dare you.
Although there are many companies offering glacier walks and excursions in the south year round, Arcanum Glacier Tours was one of the only companies we found operating climbing trips during the winter months.
The adventure began with some unplanned off-roading down a boulder-ridden path for roughly 4 kilometers to Arcanum's base camp. Here we joined the growing group of eager glacier-goers and started the rather slow and arduous process of outfitting 20 twenty people with helmets, crampons and harnesses, made all the more entertaining thanks to a sprinkling of dry Icelandic humor we had come to love.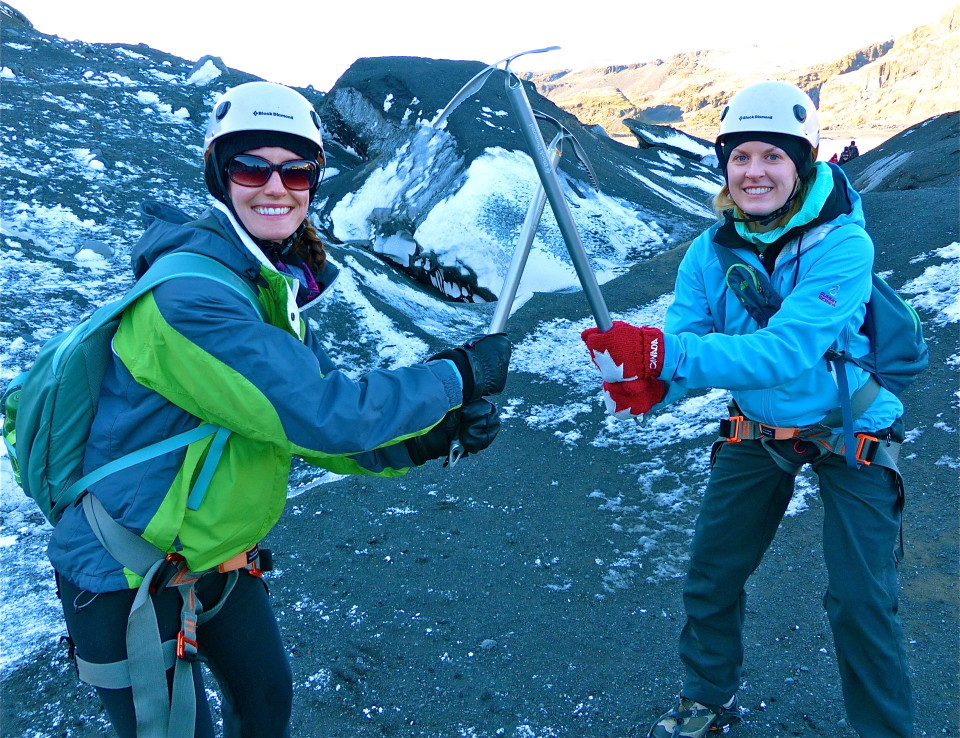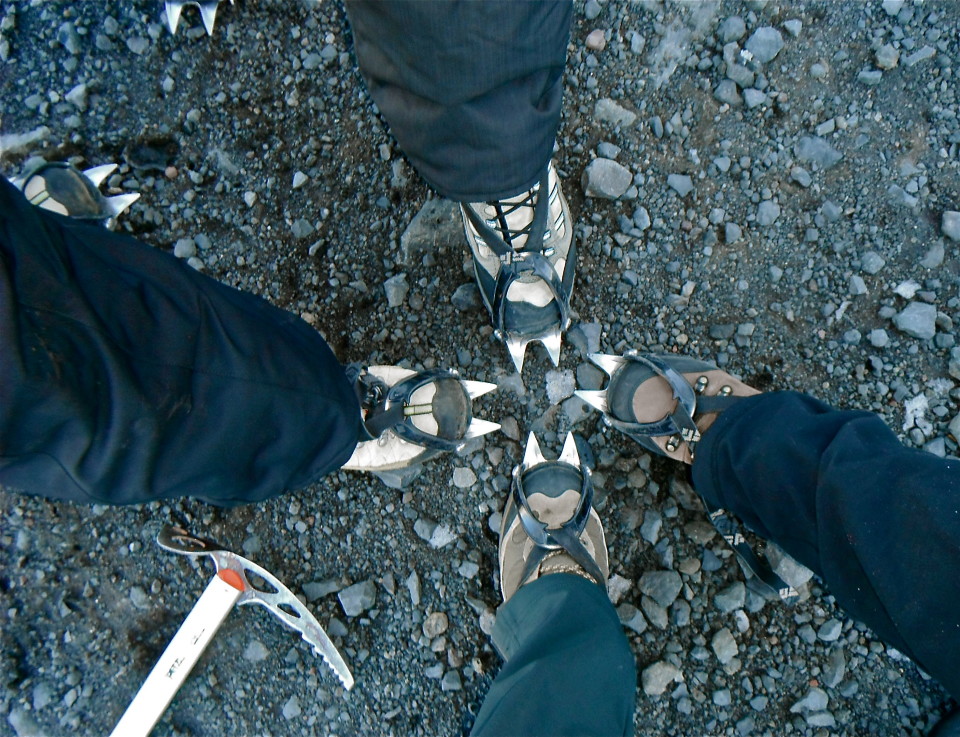 We knew we had made the right decision when our small group of six –us four Canadian girls joined by two gentleman from Boston – broke away from the larger group and were introduced to Tómas, ice climbing guide and storyteller extraordinaire. Tómas looked like he was plucked straight from an Icelandic folk story, sporting a brown and white lopapeysa and rugged orange beard. Every few 100 meters we stopped for him to share an interesting fact or story about the glacier, a welcomed rest that we also used to peel off layers of clothing as we began to overheat from the climb and sun.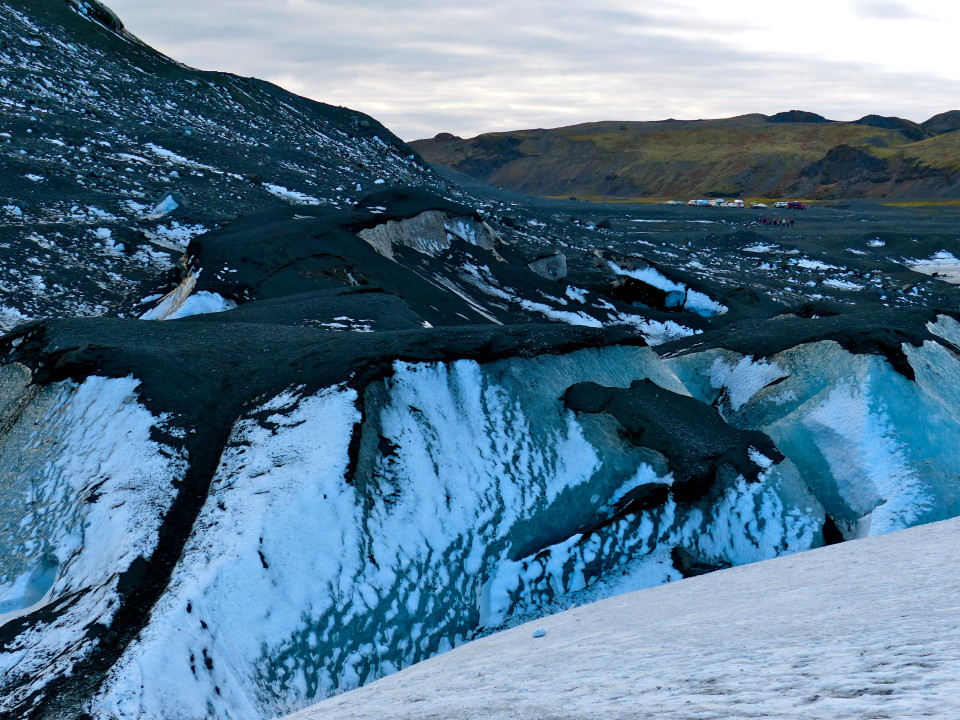 High atop Sólheimajökull, the mark of global warming is glaring. Since 1930, the glacier ice has receded over 1000 metres, leaving a barren, rocky trail in its wake. Once entirely covered in a thick icy layer, at this rate if the climate continues to warm, there is a possibility that all of Iceland's glaciers will be gone by the year 2214.
"Icelanders, we will have a big problem on our hands, Tómas jokes in his deadpan delivery, "we will have to come up with a new name."
Twenty minutes later, we stop at a spot that Tómas declares will be our ice-climbing site for the day, a deep crack in the glacier with a sheer ice-face covering one side.  As he goes to work securing our ropes, we soak in our surroundings – a perfect blue-bird day.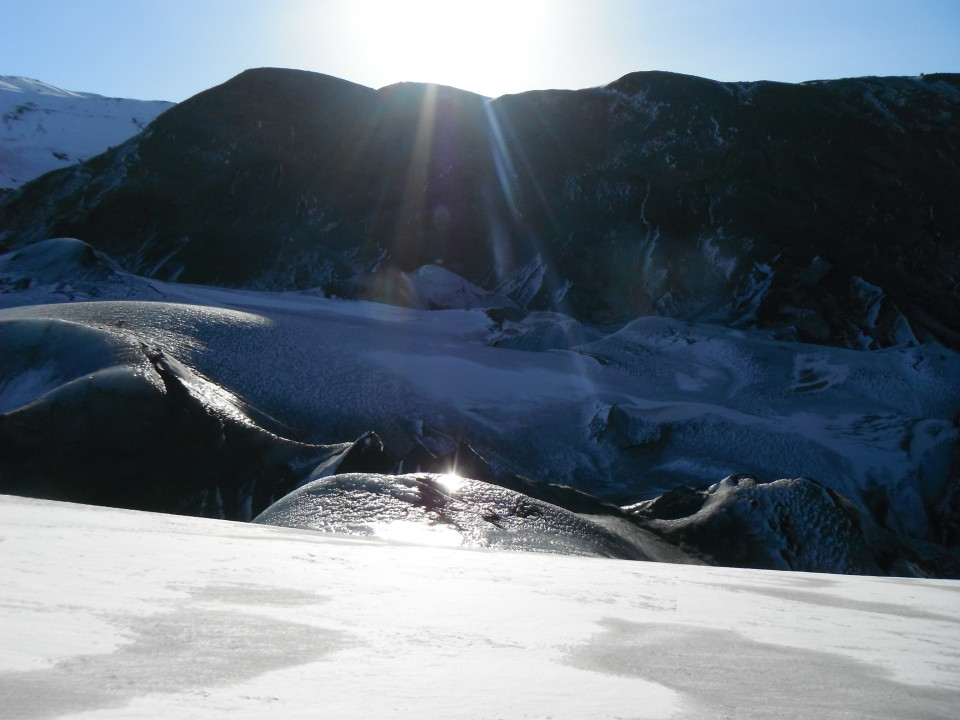 Basically, the idea behind ice-climbing is to hammer both ice picks into a convenient or pre-existing groove in the ice, and then hoist yourself up bit by bit as you kicked one toe pick after another into the ice wall. So yes, it is as badass as it looks…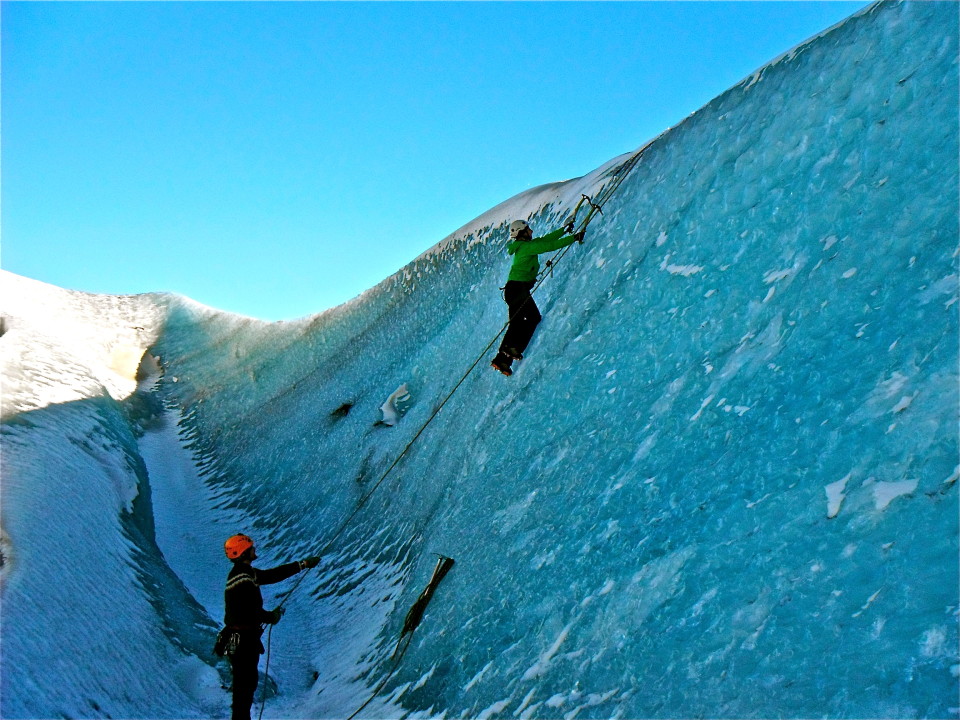 Although we are a relatively fit bunch I was sore for days afterwards, my body having called on muscles it had long forgotten existed. In retrospect, we would have been bored on a more basic glacier walk and were happy to pay a little extra for the added adventure. Arcanum's ice climbing tour was the perfect mix of adrenaline, Icelandic story telling and geology lesson, all rolled into one. We appreciated Tómas' expertise and knowledge, and felt that his passion and humor really made our trip.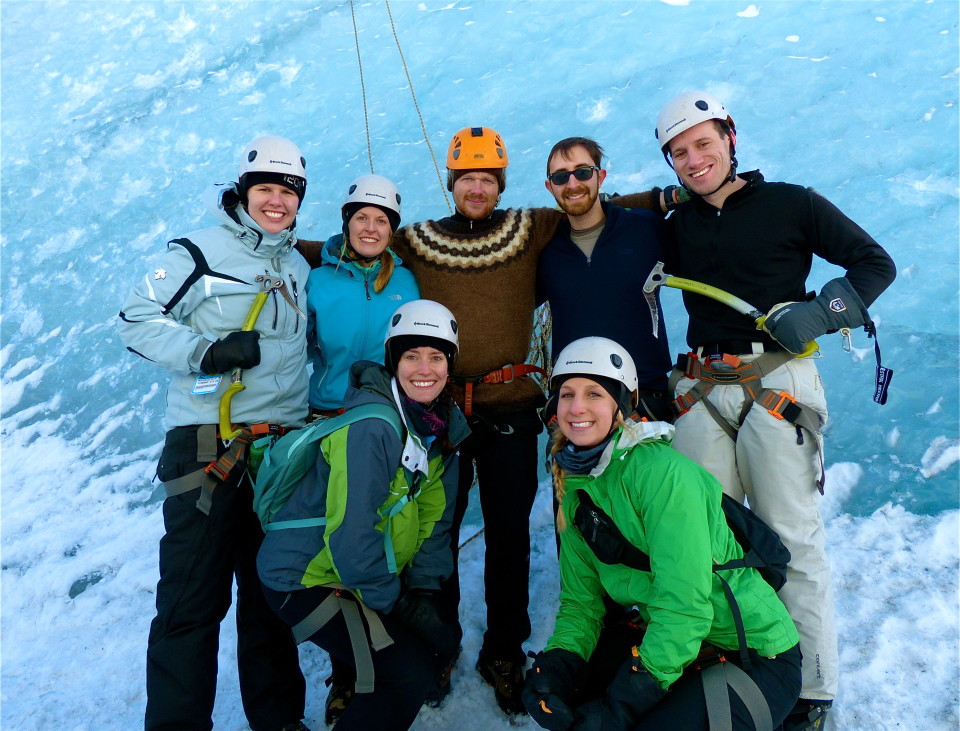 PRACTICAL TIPS FOR THE WANDERING SOUL
Arcanum is based out of a truck at the base of Sólheimajökull , four km off Route 1 at turn off #221, about 26 km west of Vik. The road is no joke – take your time and if you do not have four-wheel drive, Arcanum will happily pick you up.

Their 3 hour ice climbing tour will run you 13,990 ISK (approx. $135 CAD), but they offer a range of other options as well.