After an overnight bus trip that I can only describe as a hellish 7-hour rollercoaster ride in the dark, we arrive in Uyuni just before dawn. We stumble off the bus into the bitter cold to find ourselves in a ghost town –lights turned off, shop curtains drawn, and our fellow weary travellers the only signs of life.
A woman standing outside the station called out, offering warm shelter and hot beverages to anyone who would listen to her company's sales pitch on a tour of the Salar, the world's largest salt flat and Uyuni's claim to fame.
Heated office? Hot coffee? This wasn't her first rodeo. Tired, cold and more than a little vulnerable, we accepted the offer and allowed ourselves to be led to shelter.
Tour operators in Uyuni offering single and multi-day excursions into the Salar are a dime a dozen, with new companies popping up all the time. Only a fraction of these have a website, and the advice we received from other travellers was that we would be able to find a better deal by shopping around in person than booking beforehand. We remained skeptical as we questioned her on what we could expect from the tour – food, accommodation, itinerary etc. – before finally settling on a two-night, three-day excursion for about 800 bolivianos (a steal at roughly $120 CND).
With the finer business arrangements now out of the way and three hours to kill in sleepy Uyuni, we allowed ourselves to be lead to her friend's tiny restaurant for some breakfast. We had our fill of ham, eggs and café con leche while Nikki Minaj music videos looped in the background. Several hours later we emerged along with the sun, fully caffeinated and ready for some more adventure.
Be careful what you wish for, is that how the cliché goes?
Sitting on the curb outside of the nice Sales Lady office, we watched jeep after jeep file out of the city into the dusty unknown. We waited and watched as Uyuni came to life. Children kicking stones on their way to school; a posse of stray dogs patrolling the streets; local vendors setting up their wares. We waited and watched, becoming more certain that we had been played with every minute that ticked past.
Disheartened and embarrassed, we began weighing our options…
1)   Hunt down not-so-nice Sales Lady and…that's as far we got. None of us had much experience in shakedowns.
2)   Attempt to find another tour operator who hadn't yet departed for the Salar.
3)   Remain sitting curbside in the middle of the Bolivia outback and cry.
Around the time that Option 3 started looking the best, a 4×4 bumped and rolled up the street coming to a stop at our feet. Out popped Sales Lady and Miguel, a 20-something tour operator with quite demeanor and infectious smile.
A wave of relief washed over the group. Already in the back seat of the 4×4 were Priska and Verena, two Swiss-German girls with whom we would become fast friends. Wanting to waste no more time, we piled in beside them and followed the cloud of dust in pursuit of the other tours.
First stop was the Train Cemetery, a tribute to Uyuni's past days as a distribution hub for minerals in their way to the Pacific Ocean.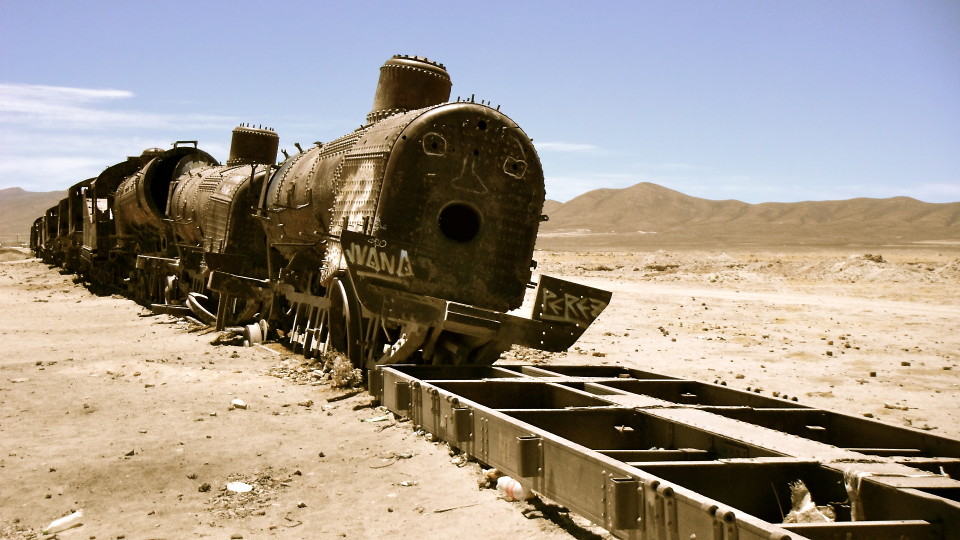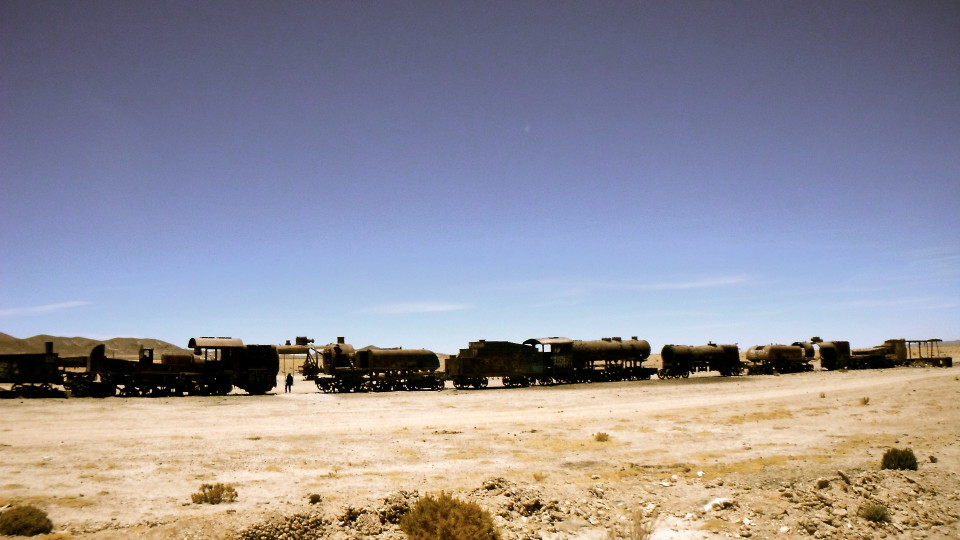 Priska floated between English, Spanish and her native Swiss-German tongue so effortlessly it made me wish I had grown up surrounded by language…or at least that I had paid more attention in French class. Priska was the bridge between each of our worlds and the window into Miguel's life working as a tour guide in the Salar. This, and of course Miguel's epic road-trip soundtrack from which we gathered that he was (most certainly) a hopeless romantic.
In no time we had reached the edges of the crown jewel of the trip, the Salar herself. Stretching over 10,000 square kilometers and covered by several meters of salt crust, the Salar's extraordinary flatness lends itself to some fun with perspective.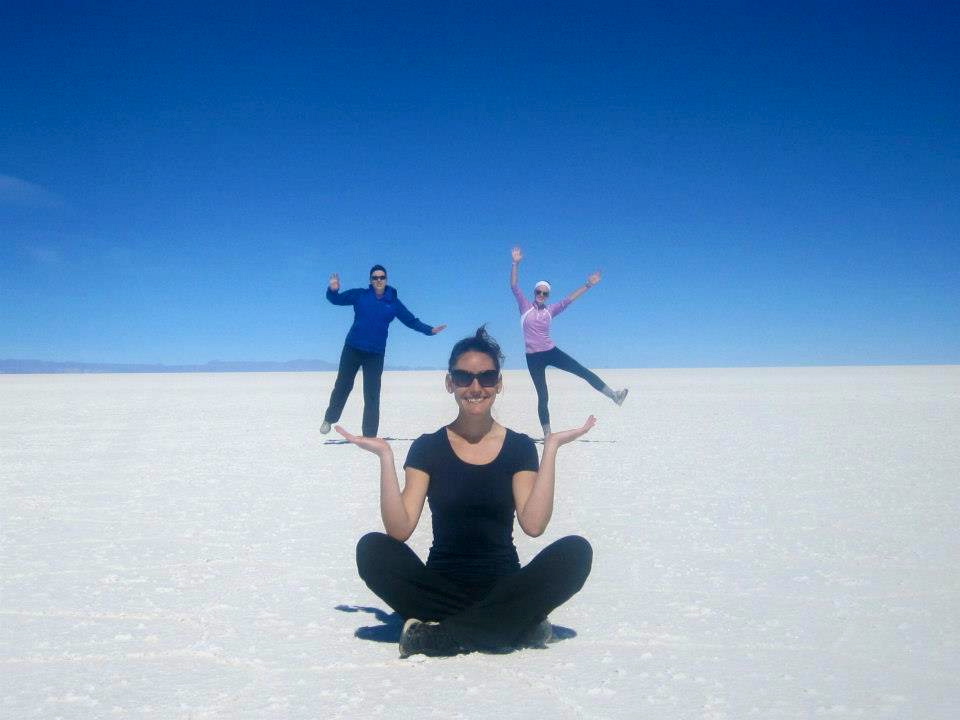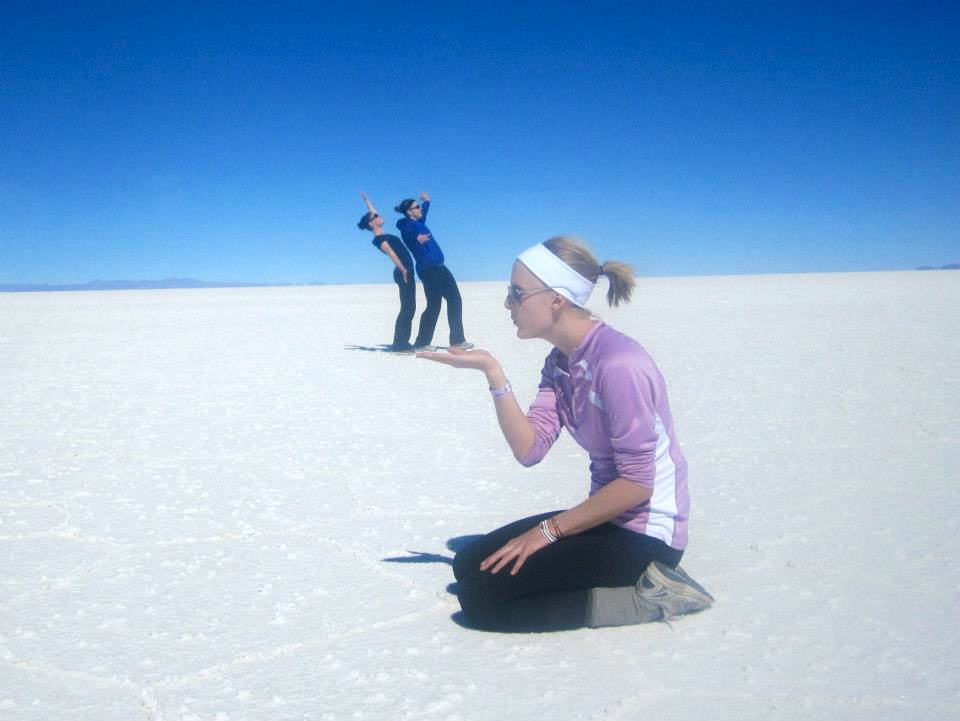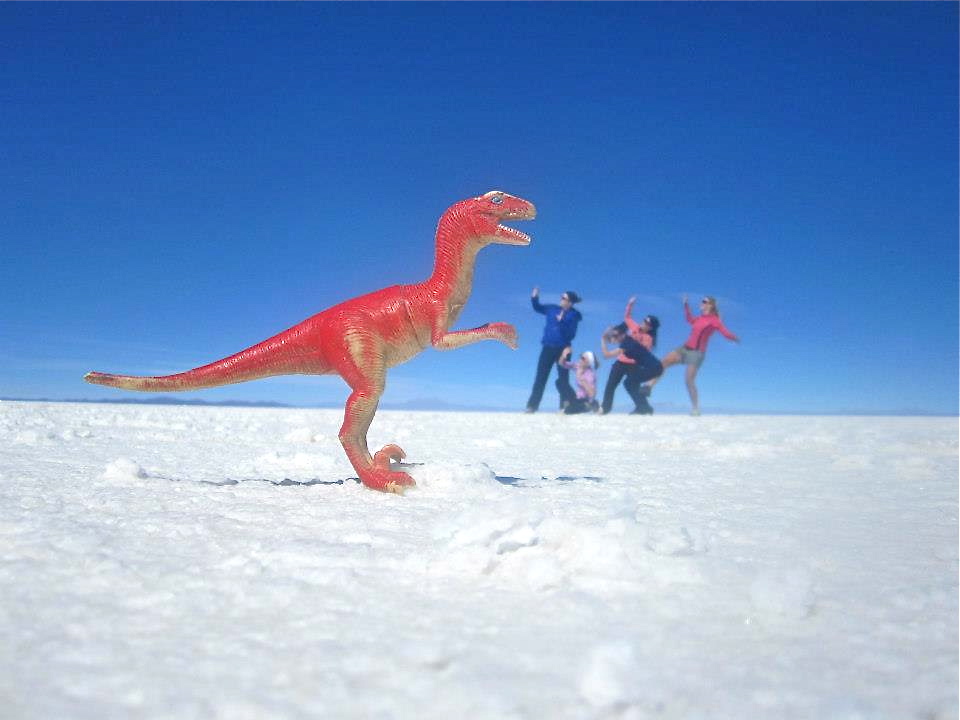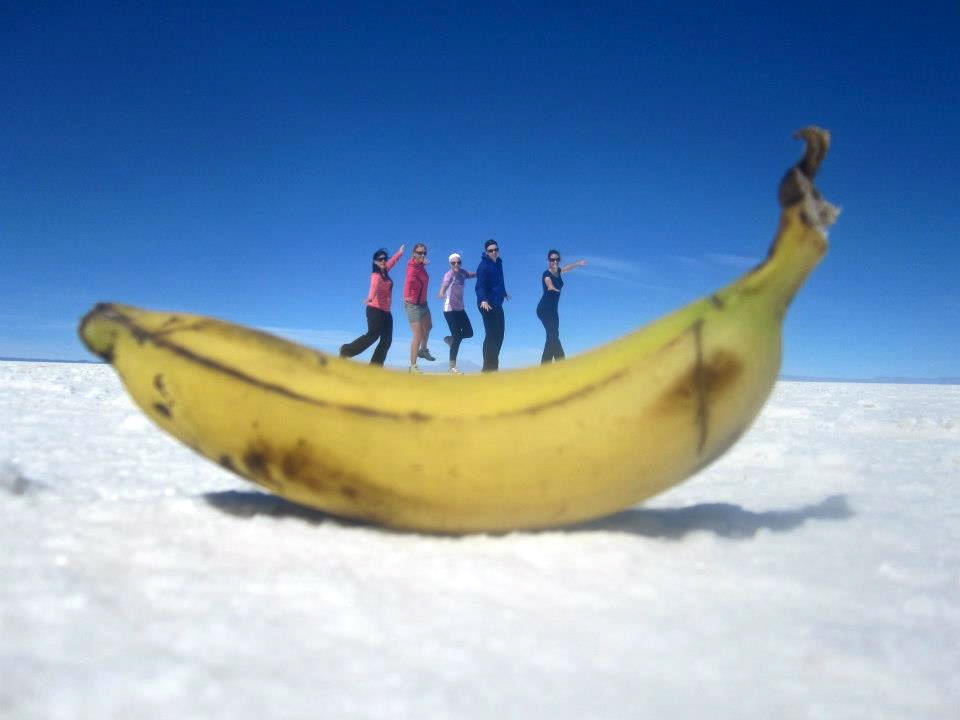 Clearly, this photo shoot could have gone on for ever. The ever patient Miguel (tour guide turned photographer) had a surprise in store for us. Rather than continue on to our guest house for the night right away, he parked the 4×4 on the Salar and waited while we watched our shadows grow longer and the sun burn down into the horizon.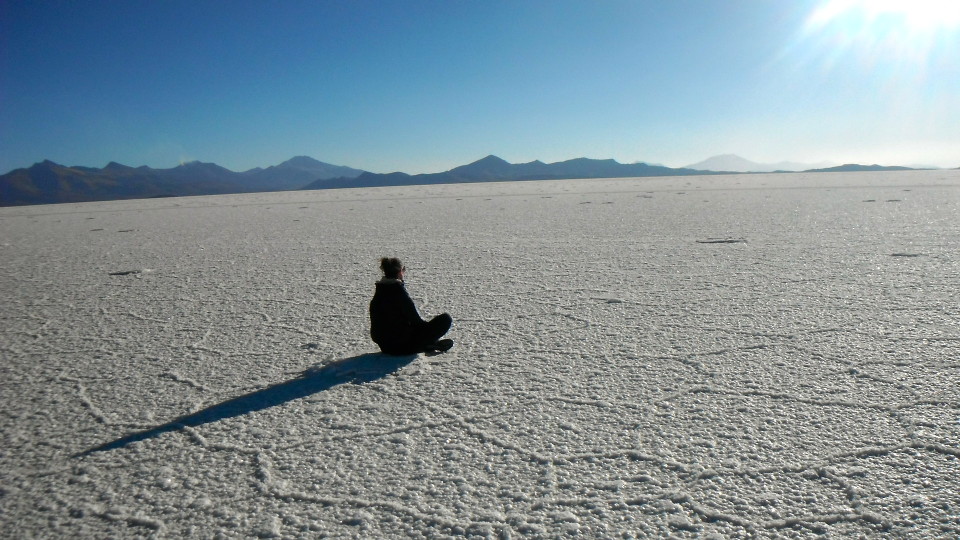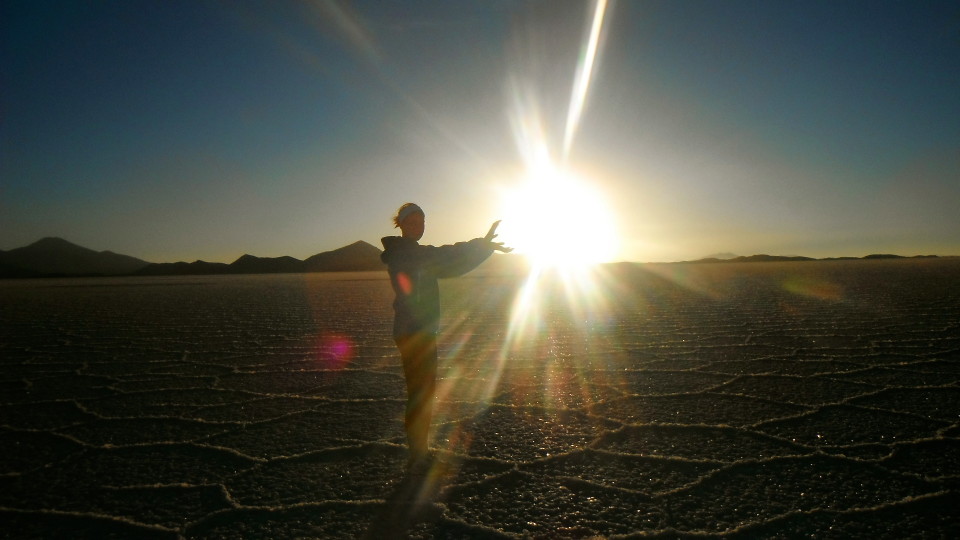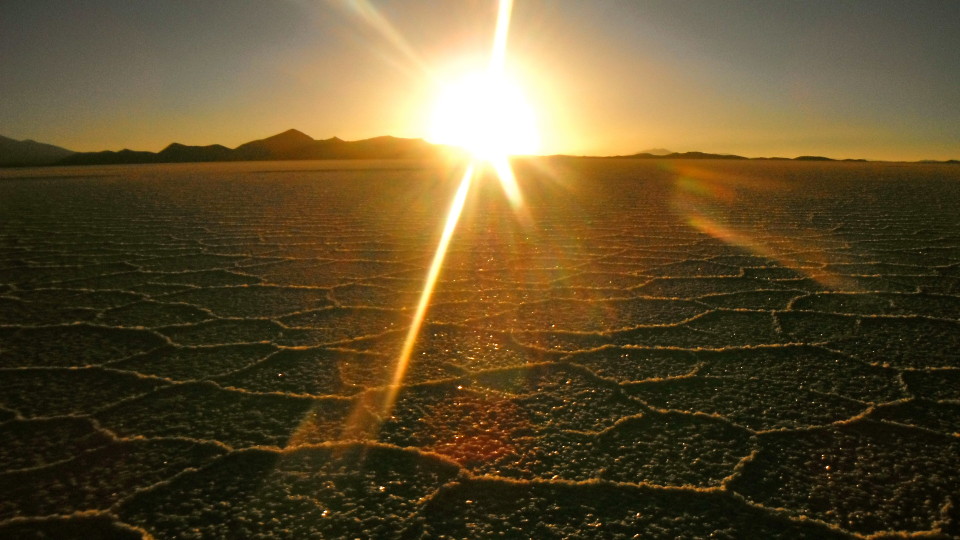 Day two took us deeper into the antiplano and off the beaten track. Burnt reds, golds and browns raced by outside, rolling over hills and stretching out in front of us before disappearing into the horizon. I sat in the front seat, absorbing every bump with our 4×4 as it forged its own path along the even terrain hopping out every so often to admire a multi-coloured Laguna or marvel at a pack of flamingos (what were they doing here? It's so cold!). Our day was capped off with a meal of hearty soup and pasta, and of course, a very special Bolivian Birthday celebration. That night as a bitter cold crept through the cement walls of our guest and I was fairly certain that I was going to die of hypothermia, despite piling on every layer that I brought, plus the two alpaca blankets I had purchased as gifts in La Paz.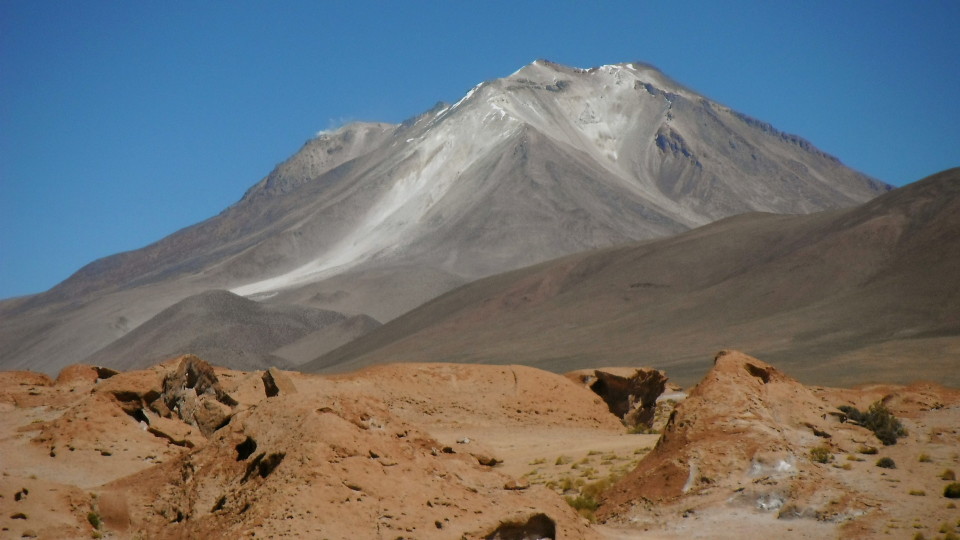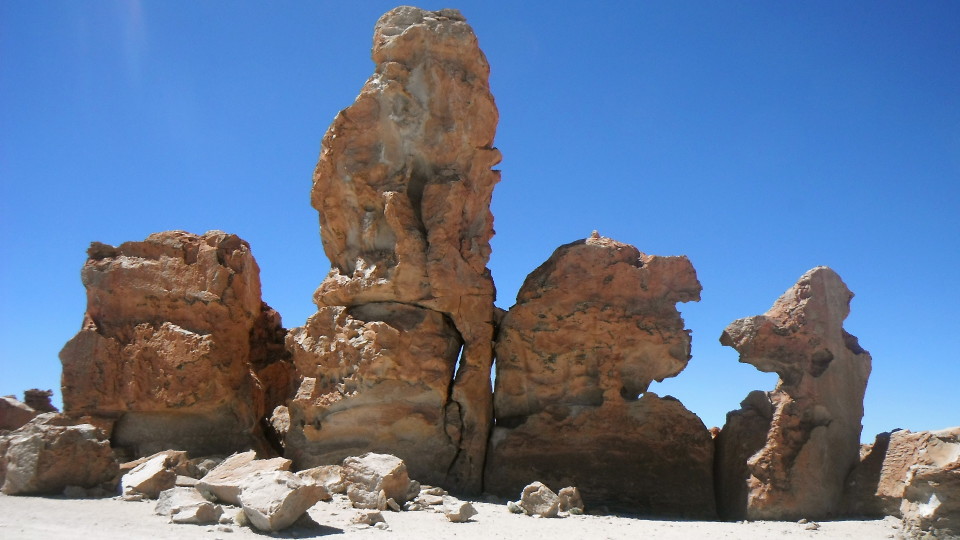 We woke before dawn on the third day in order to squeeze in one more important activity before our long trek back to Uyuni – hot springs topped off with a dulce du leche pancake breakfast (maple syrup-loving Canadians collectively cringe).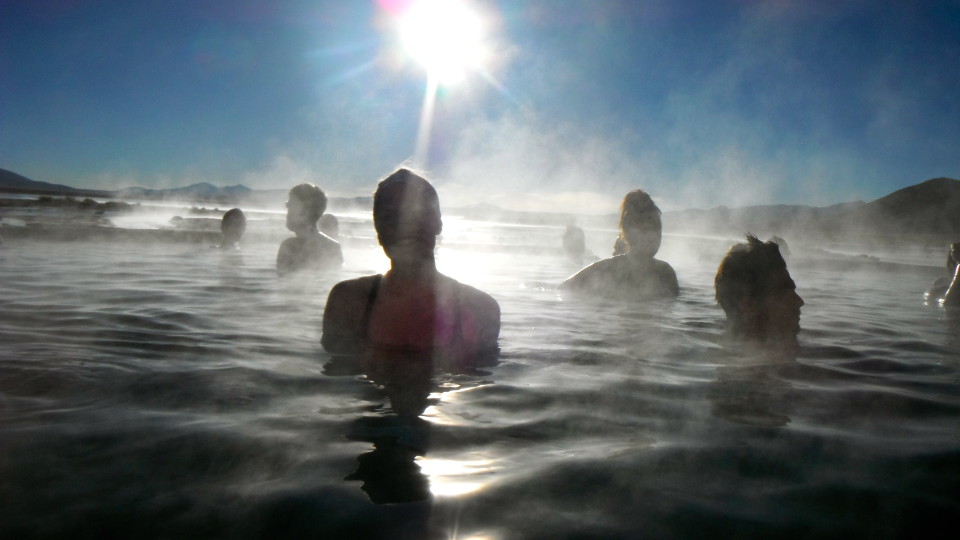 We said our goodbyes to Priska and Verena shortly after at the Argentinian border near San Pedro de Atacama, a brilliant option for travellers not on a tight timeline but looking to avoid backtracking to Uyuni. From this point on Miguel and I occupied the front of the 4×4 in an unfortunate silence, one born out of requirement rather than choice. My Spanish was more broken than his English, and with our resident translator now gone we settled into a shared quietness. I lamented the lost opportunity to connect and share with Miguel during the long hours on the road back to Uyuni, and vowed to put learning Spanish on the top of my bucket list.
After a full day's drive, we arrived back in Uyuni with just enough time to mentally prepare for the overnight bus back to La Paz. And you know what?  I would ride that roller coaster bus again in a heartbeat to get back to the otherworldly beauty of the Salar.